Who I am and what I do.
My name is Stefanie Weigele, I am a calligrapher and graphic designer (MA from the University of the Arts Bremen) in Potsdam (30 km to Berlin), Germany. I have worked more than 20 years in the creative business – as an illustrator, art director and freelance designer.
---
I write. I draw. I design.
I have always loved analogue designing; calligraphy is one of the most perfect ways to bring together precision, beauty and the possibility of subtle artistic expression – most so, for me, in pointed pen writing.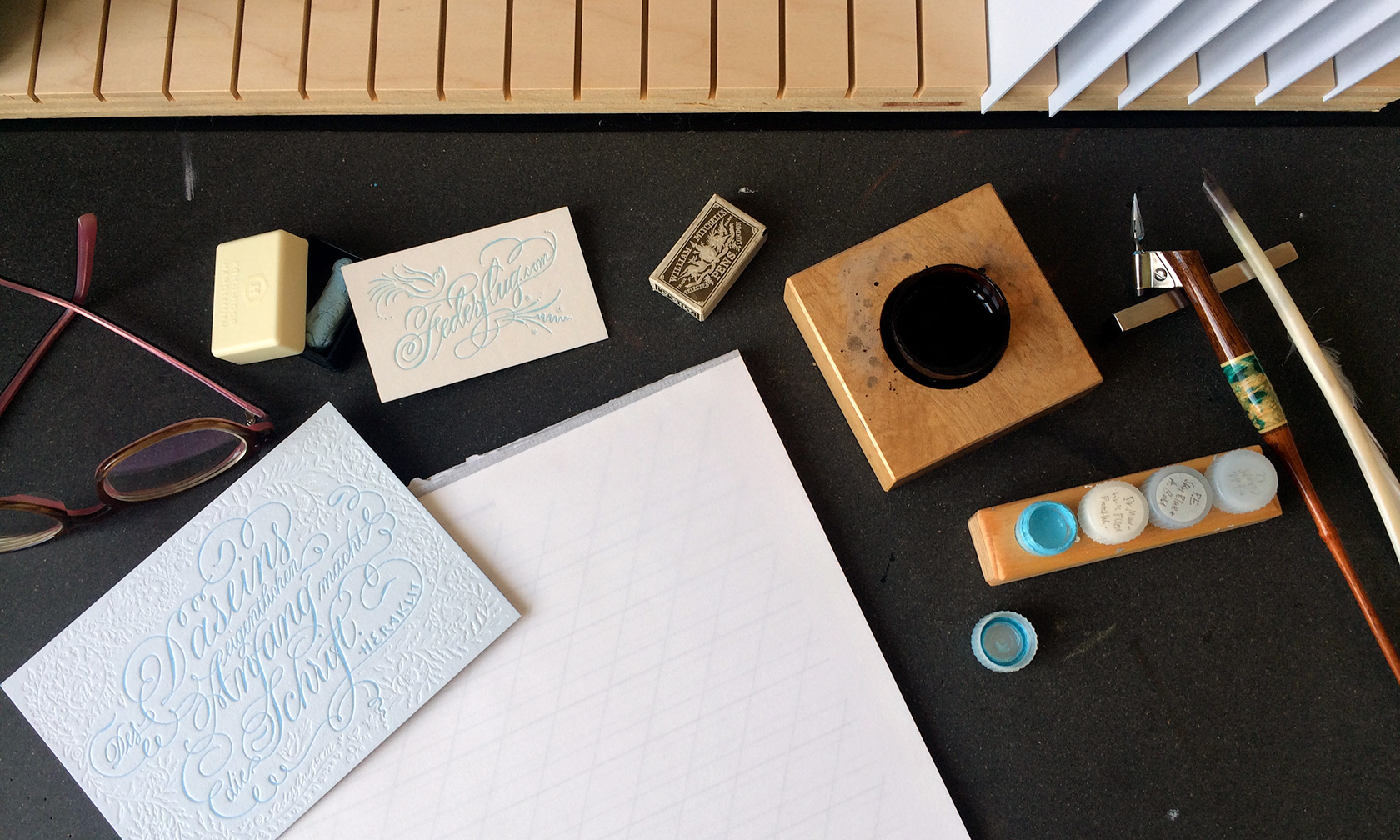 Learning.
I believe in life long learning! I studied among others with the following calligraphers and lettering artists:

:: Petra Beiße (2009 – Kalligrafie)
:: Master Penman Barbara Calzolari (2014 – Spencerian)
:: Master Penman Harvest Crittenden (2014 – Spencerian ; 2015 – Advanced Spencerian & Illuminated Initials)
:: Anne Elser (2018 – Flourishing)
:: Martina Flor (2013 – Lettering vs Calligraphy)
:: Hubert Leonhard Graf (2017 – Bastarda)
:: Julien Priez (2016 – Exploration between Type Design & Calligraphy)
:: Giuseppe Salerno (2013 – Lettering vs Calligraphy & Copperplate Capitals)
:: Peter Thornton (2016 – Gilding)

---
Networking.
I am a member of the Schreibwerkstatt Klingspor as well as of the International Association of Master Penmen, Engrossers and Teachers of Handwriting IAMPETH. You can find examples of my most recent work as well as experiments on my blog and on my Instagram feed. Watch me write on YouTube. I am rather active in the Flourish Forum, where you will find lots of information about calligraphy. Some of my work was published in the Dasherie Magazine.
Thanks.
to my husband and our three children with which I love to spend my time, when I am not about to try new inks and paper, or run in beautiful Park Sanssouci, or am looking for inspiration in old books.